My best friend LOVES squirrels, so when I saw the new Nuts About Squirrels stamp set in the July-December Mini Catalog, it was one of the first things I put on my list! I thought this set would be perfect for this Stamping With Friends Sneak Peek Blog Hop!
Believe it or not, my husband helped me design this card. He likes to sometimes hang out with me in my craft room when I'm making cards, so I let him help me pick out the colors and the sentiment used to make this card. I guess you could say this Nuts About Squirrels card was a collaboration.
Supplies:
Nuts About Squirrels Stamp Set
Ink Pads in Cajun Craze, Cinnamon Cider and Early Espresso
Cajun Craze Cardstock 5 1/2" x 8 1/2" (scored in half)
Wood Grain DSP 5 1/4" x 4" (I used some retired DSP I had laying around but you could use the In Good Taste DSP or you could use the new Timber 3D embossing folder to achieve a similar look).
Basic White Cardstock 5 1/8" x 3 7/8" for underneath layer, 5 1/4" x 4" for the inside and a scrap piece large enough to stamp squirrels and a couple leaves
Snips for fussy cutting
Adhesive and/or glue of choice
Layering Circle Dies
DireCtions:
This card was fairly simple to make. I first cut three circles out of my wood grain DSP with the Layering Circle Dies in various sizes. Next I stamped the outside of my squirrels in Early Espresso on my scrap piece Basic White cardstock as well as the branches under two of the larger circle cutouts, on the Basic White background layer of cardstock as well as on the inside piece of Basic White cardstock. Next, I stamped the inside of the squirrels in Cajun Craze. I also stamped some random leaves in Cajun Craze on the outside and inside pieces. I then stamped the acorn in Cinnamon Cider (stamping off once for the bottom part of the acorn).

I then fussy cut my squirrels and a couple leaves that were stamped on the Basic White cardstock. I finished stamping the rest of my leaves in Cinnamon Cider before attaching all my layers with adhesive and attaching my squirrels as well as a couple fussy cut leaves to the outside of my card. I then stamped the sentiment in Cajun Craze. Finally I attached the inside layer. Easy Peasy!
I just love the finished product! These squirrels are just too cute and the sentiments that come with this set make it a stamp set that I am sure I will get a lot of use out of. What do you think of this adorable Nuts About Squirrels card? Be sure to leave a comment below!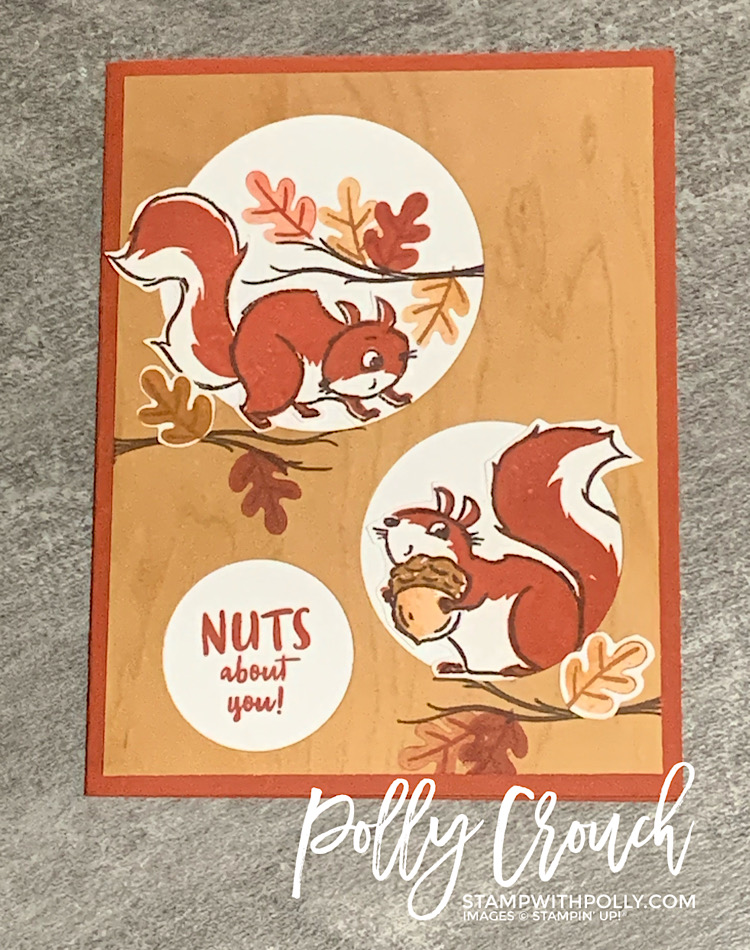 I hope this Sneak Peek Blog Hop has helped you get a little bit more excited about the new July-December Mini Catalog. We are only days away!
Mini Catalog & Sale-A-Bration Countdown
Don't forget to scroll down to sign up for my monthly newsletter and to subscribe to my blog (two separate sign up forms) before heading to the next blog! Thanks for stopping by!
Linda Moore 
Caron Bailey
Libby Fens
Jo Blackman
Karen Egan
Tricia Butts
Polly Crouch ⬅️ YOU ARE HERE!
Sarah Bullen
Tracie St-Louis
Nancy Reynolds
Betty Bickford
Donna Schness
Tina Hewett
Deb Smeak
Mary Knabe
Stamp with Polly