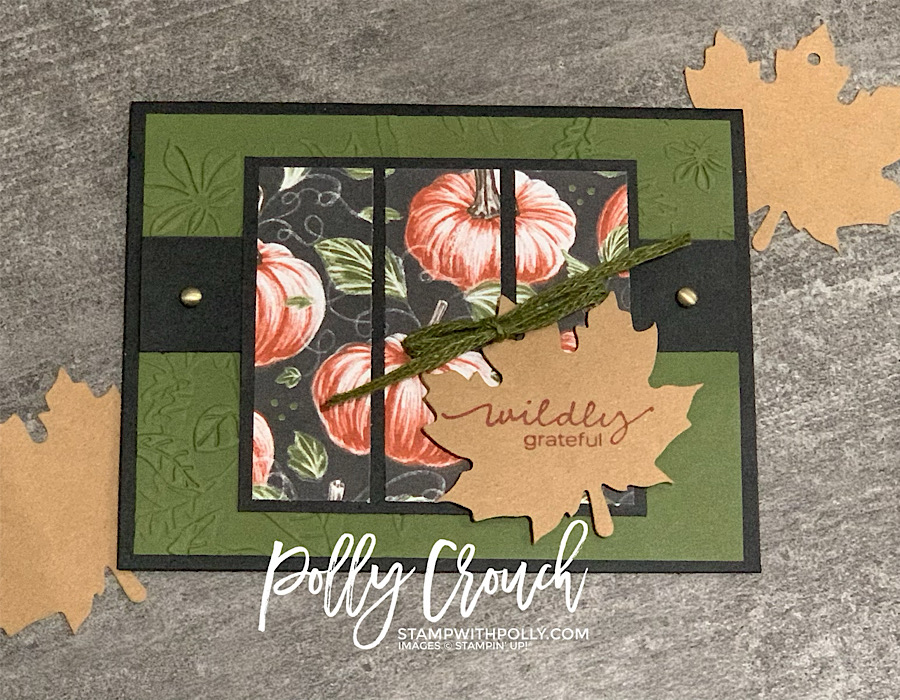 This Rustic Harvest Fall Card is such a simple card to make. You can easily switch out the DSP and card stock colors for unlimited combinations. Since Fall is my absolute favorite season, I had to showcase this gorgeous Rustic Harvest DSP.
Supplies Needed:
Black Card Base 8 1/2" x 5 1/2" scored at 4 1/4"
Mossy Meadow Cardstock 5 1/4" x 4"
White Cardstock (for inside) 5 1/4" x 4"
Black Cardstock 1" x 5 1/4" & 3 1/2" x 3 1/4"
Rustic Harvest DSP 3" x 3" and then cut into (3) 1" strips
Leaf Fall 3D Embossing Folder
Leaf Cutouts (or you can stamp sentiment on any shape of your choosing)
Dimensionals
Ribbon of choice (I used some Mossy Meadow ribbon I already had on hand)
Metal Embellishments (again, I just used what I had)
Instructions:
This card is very easy to assemble. I ran the Mossy Meadow cardstock through my embossing machine with the Leaf Fall 3D embossing folder. I attached that to the outside of my black card base. I then attached the 1" black strip. Next, I attached my three Rustic Harvest DSP strips to my black square (make sure you keep the strips in the correct order). I then attached that to my card. Finally, I stamped my sentiment onto my leaf, added my ribbon and attached it to my card with dimensionals. For the final touch, I added my metal embellishments.
I hope you enjoyed this simple Rustic Harvest Fall Card. It's a great card design to showcase some of your favorite DSP without needing to use very much of it.
Stamp with Polly