When I first saw this Spiral Dye background stamp in the Stampin' Up! Annual Catalog, I knew I wanted to make a "flower power" themed card. The Color & Contour bundle was the perfect set to pair with the Spiral Dye stamp for this groovy "tie dye" card.
Supplies:
Spiral Dye stamp
Color & Contour bundle
Polished Pink & Mango Melody Ink Pads
Polished Pink, Mango Melody and Basic White cardstock
Stamperatus
2021-2023 In Color Jewels
Dimensionals
Stampin' Seal
Directions:
I started by cutting my cardstock. I cut Mango Melody at 8 1/2" x 5 1/2" and scored it in half for the card base. Then I cut a piece of Polished Pink at 5 1/4" x 4" and lastly Basic White a little larger than 5 1/8" x 3 7/8" (we will cut it down after stamping) and another piece at 5 1/4" x 4" for the inside.
Next, I took my cut piece of Basic White and centered it on my Stamperatus and marked the edges. I laid my Spiral Dye stamp on the center of my white cardstock and picked it up with the Stamparatus. I inked it with Polished Pink and stamped the image.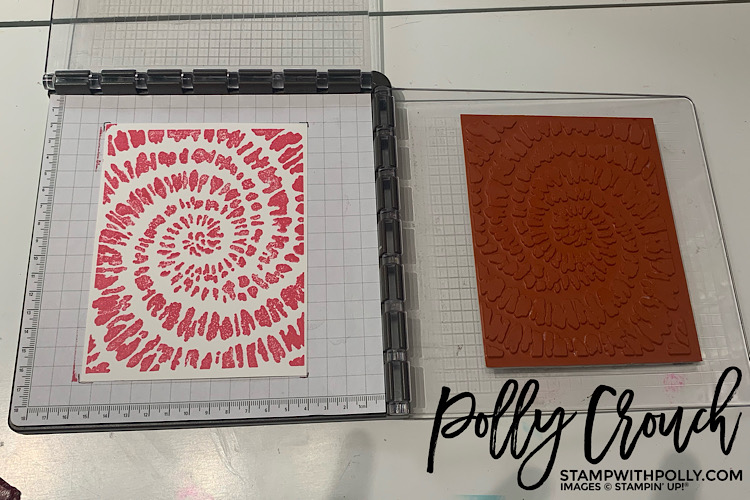 Then I flipped the stamped white cardstock 180 degrees, cleaned my Spiral Dye stamp with a baby wipe and inked it with Mango Melody before I stamped the image again.

I trimmed the finished Spiral Dye background to 5 1/8" x 3 7/8" before layering it on top of the Polished Pink cardstock with Stampin' Seal and then finally onto my Mango Melody card base.
Next, I stamped my flowers. I used the 2-step daisy flowers and stamped one of each in Mango Melody and Polished Pink on a scrap piece of paper before using the coordinating dies to cut them out.
I also stamped one of each of the flowers in the corner of the 5 1/4" x 4" white cardstock for the inside of the card. I also stamped the sentiment in Polished Pink on a scrap piece of paper before using the smallest rectangular scalloped die from the Color & Contour bundle.

Finally, I attached the sentiment and flowers to the center of my card with dimensionals. I finished the card by adding three In Color jewels to the center of each flower.

Such a fun card! I love this color combo but can't wait to try some other color combinations. Leave me a comment and let me know what you think!
If you love bright bold cards, be sure to check out my Make Your Own DSP blog post here.
Stamp with Polly