Welcome to my first blog hop! I am joining other Silver Stampin' Up demonstrators on this fun "Journey to Silver Elite" blog hop! The challenge for this blog hop was to create a project using one product out of the new catalog, one product that carried over from the old catalog to the new catalog and to use at least one of the new In Colors.
I decided to make this gorgeous card with the All Things Fabulous stamp set and dies (which carried over into the new catalog) and the new stamp set Create With Friends. I also used 4 out of the 5 new In Colors.
Here's the list of everything I used:
Basic White Cardstock (one cut at 5 1/2" x 8 1/2" and scored in half for card base, one cut at 4" x 5 1/4" for card front and two scrap pieces big enough to die cut four stamped leaves and two large flowers and to stamp the sentiment).
Ink Pads in Polished Pink, Melon Mambo, Pale Papaya, Mango Melody, Fresh Freesia, Rich Razzleberry and Soft Succulent
Small piece of vellum
Dimensionals
Stampin' Seal
Glue
Paper Snips
Directions:
I started by stamping my 4" x 5 1/4" card front with the flowers as show below. The All Things Fabulous flowers are three part stamps, but I only used two out of the three stamps for each flower (I didn't use the smallest center stamps). I used Polished Pink for the largest flowers with Melon Mambo in the center, Pale Papaya for the second largest flower with Mango Melody for the centers, Fresh Freesia for the smaller flowers with Rich Razzleberry in the centers and Soft Succulent for all the leaves.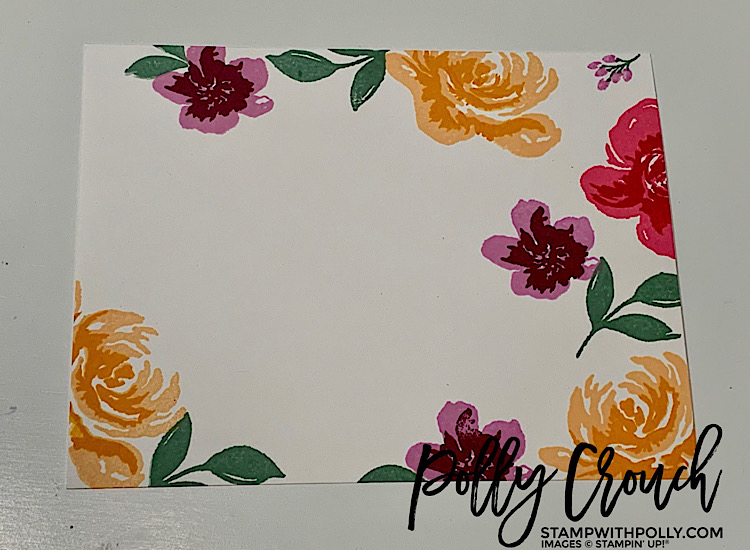 I also stamped my large pink flowers and additional leaves on my scrap paper when I had those colors out. Then I die cut the leaves and flowers on my scrap paper. I also cut a couple leaves out of vellum while I had the dies out.
Next, I stamped the "Amazing" sentiment on a piece of scrap paper in Rich Razzleberry and fussy cut the sentiment. If you aren't familiar with the term "fussy cut", it just means you hand cut around the sentiment or image.
Finally, I attached the die cut flowers and leaves to the card with dimensionals and glued the vellum leaves making sure to tuck them under the flowers. I then stamped the "You're" sentiment with Fresh Freesia and then attached the fussy cut "Amazing" sentiment with glue and dimensionals. I also used dimensionals to attach the card front to the card base. And there you have it…an All Things Fabulous card!

I am so happy with how beautiful this card turned out. You could also stamp matching flowers on the inside if you wanted. I love the colors I used but it would be fun to try making it in other colors.

I hope you enjoyed my first blog hop and will check back often! We'll be doing another blog hop in July! Be sure to sign up for my newsletter before you hop on over to the rest of the blogs.
Nancy Reynolds: Stampin' With Nutsy
Nedine Dupree: Craft Lounge Creations
Janice Piechowiak: Creating Treasures with Janice
Cathy Rocca: From The Stamp Studio
Julia Mazur: Simply She Stamps
Libby Fens: libbystamps
Polly Crouch: Stamp with Polly ⬅️ YOU ARE HERE!
Tricia Butts: Tricia's Stamping Creations
Tracy Byers: Cards, Craft and Stamps
Terri Hartley: Rustic Barn Cards
Theresa Tucker: Tucker Topnotch Designs
Sue Kremer: North Star Stamper
Kelly Taranto: The Late Night Stamper
Tammy Gill: Stampinkspired
Linda Moore: Moore Fun Stamping
Debra Norton: Stamping By The Lake
Jane Proffitt: Gal Friday Stamping
Sharon Jacobs: Stamped Inkspired Designs
Stamp with Polly