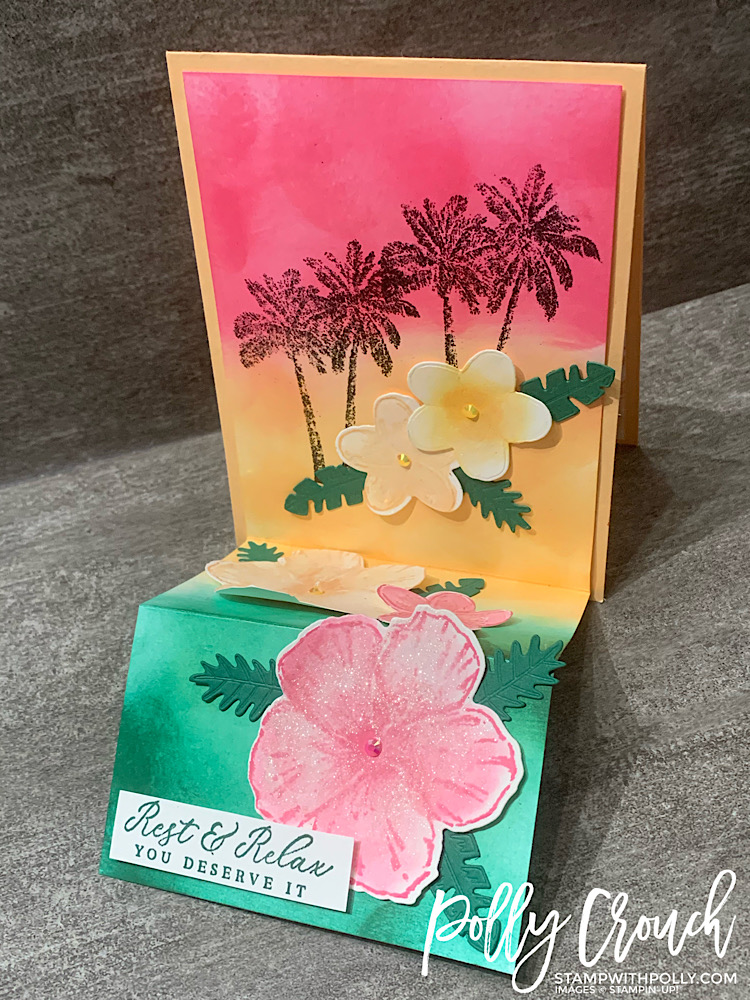 We are having record breaking heat here in Oregon (currently 109 degrees where we live) so I thought this Timeless Tropical fun fold card was fitting. I love how gorgeous the sunset background turned out on this card by simply using blending brushes and ink.
Here is a list of all the supplies I used:
Pale Papaya Cardstock (4 1/4"" x 11") folded in half
Basic White Cardstock (4" x 10 1/4" & 5 1/4" c 4") plus scrap pieces for flowers
Scrap piece of Evening Evergreen Cardstock for leaf cutouts
Timeless Tropical Stamp Set
In The Tropics Dies
Blending Brushes
Ink Pads in Polished Pink, Pale Papaya, Evening Evergreen & Black
Versamark Ink Pad
Black Embossing Powder
Heat Tool
Sponge Dauber
Wink of Stella
Water Painters
Stampin' Seal
Glue of choice or glue dots
Dimensionals
2021-2023 In Color Jewels
Simply Scored Scoring Tool
Directions:
I first took my Basic White cardstock that measured 4" x 10 1/4" and scored it at 2 1/2 and 5". I then took my blending brushes and started with Polished Pink to brush ink across the top of the card to make the sunset background. I repeated the same technique with Pale Papaya and Evening Evergreen until my background looked the way that I wanted it. It helps to start blending slightly off the paper to reduce dark splotches.
Next I took my Versamark ink and stamped the palm tree images and then sprinkled the images with black embossing powder. After shaking off the excess powder I heated the images with the heating tool until embossed. At this point I attached the white cardstock to the front of my Pale Papaya card base.
Then I started working on the flowers and leaves. I stamped a couple flowers (the largest and second largest) each in Polished Pink and Pale Papaya. Then I used my water painters with some of the ink pooled in the ink pad lid to color in each flower. Next I die cut those flowers plus one additional smaller flower in white along with seven leaves out of Evening Evergreen cardstock. I used a sponge dauber to sponge some Pale Papaya ink into the center of the non stamped smaller flower. I then used Wink of Stella on all the flowers for a little extra sparkle before attaching the flowers and leaves to the card with some glue. I then added some In Color jewels to the center of each flower. I also stamped my sentiment in Evening Evergreen and attached it to the card with dimensionals.

Finally I finished this Timeless Tropical Fun Fold card by stamping the white 5 1/4" x 4" cardstock with black palm trees and Polished Pink and Pale Papaya flowers and attached it to the inside of the Pale Papaya cardstock.
And there you have it! A stunning tropical fun fold card. This fun fold would work with so many other stamp sets as well.
Love Fun Folds? Check out this fun fold blog post! http://stampwithpolly.com/sweet-as-a-peach-fun-fold-card/
Let me know what you think of this card by leaving a comment!
Stamp with Polly