Today's Blog Hop is all about simple stamping! We were asked to feature projects made with only stamps, ink, paper and a punch. I instantly thought of the A Fish & A Wish stamp set to make this simple "Sea of Thanks" card. I made a super simple version…and then took it slightly up a notch to give you a couple different options.
Supplies:
Starry Sky card base – 8 1/2" x 5 1/2" scored at 4 1/4"
White cardstock – (2) 4" x 5 1/4"
Starry Sky cardstock – (2) 1/8" x 4"
Starry Sky ink pad
Adhesive and/or glue of choice
A Fish & A Wish stamp set (coordinating punch optional)
Scrap paper and Post It's or tape
Dimensionals (optional)
Matte dots (optional)
InstRucTiOns:
This really is a simple card to make. I took a scrap piece of paper (the thinner the better) and positioned it across my white cardstock to mask the area for my sentiment. I used a couple Post It notes I had handy to hold the scrap piece while I stamped. I used the "sea weed" stamp along the bottom (see photo above) with Starry Sky ink. I then removed my mask and stamped the sentiment and the fish. Next, I glued my 1/8" pieces of Starry Sky card stock above and below my sentiment (see photo above). I then attached my finished card front to my card base.
Finally, I stamped the inside piece and attached to my card.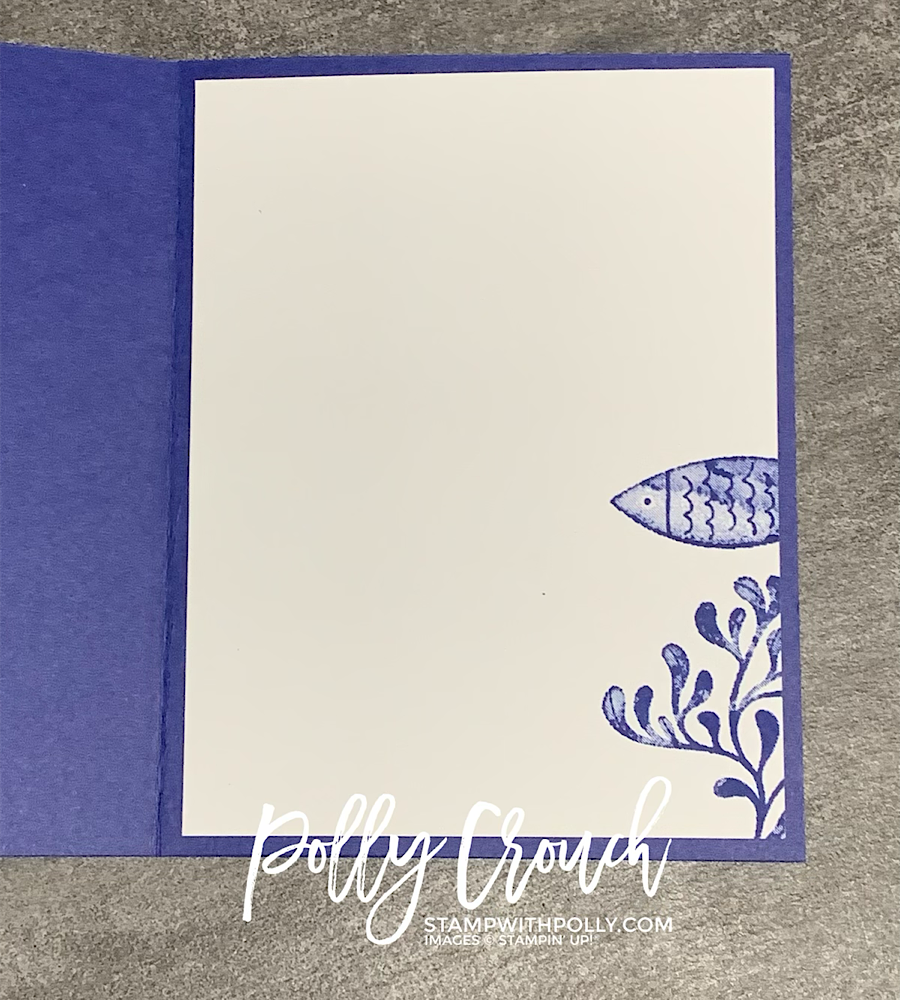 If you want to take this card slightly up a notch, simply stamp and punch out the fish and add it to the card with dimensionals and then add a couple matte dots.
The A Fish & A Wish stamp set is really the perfect set to use for simple stamping. The possibilities are endless. I hope you enjoyed this "Sea of Thanks" card. Be sure to leave me a comment to tell me what you think and then continue to hop along to see all the other simple stamping projects.
Stamp with Polly